Special offer for Motul engine oils. Within the framework of the action, customers will be provided with a free replacement of engine spare parts, air, cabin and fuel filters purchased by Tegeta Motors, as a gift of a 4-liter Motul engine. The offer is valid in all branches of "Tegeta Motors" throughout Georgia, in case of a uniform payment and in case of purchase of 0% of the contribution.
Motul Engine Motor oils combine modern technological achievements, high quality and the best choice for your car. "Tegeta" is the official dilemma of Motul lubricants in Georgia.
"Tegeta Motors" has been working in the Georgian market for 23 years and invariably retains the position of a leader in the auto industry. "Tegeta" is the largest importer of high-quality products produced by up to 300 world's leading brands, such as Bridgestone, Michelin, Varta, Exide, Shell, Motul, Hengst, ZF Parts, Lemforder, Sachs, Philips, Bosch, Febi, Federal Mogul, etc - tires, oils, batteries, and spare parts for cars.
The offer is valid from March 1 through March 31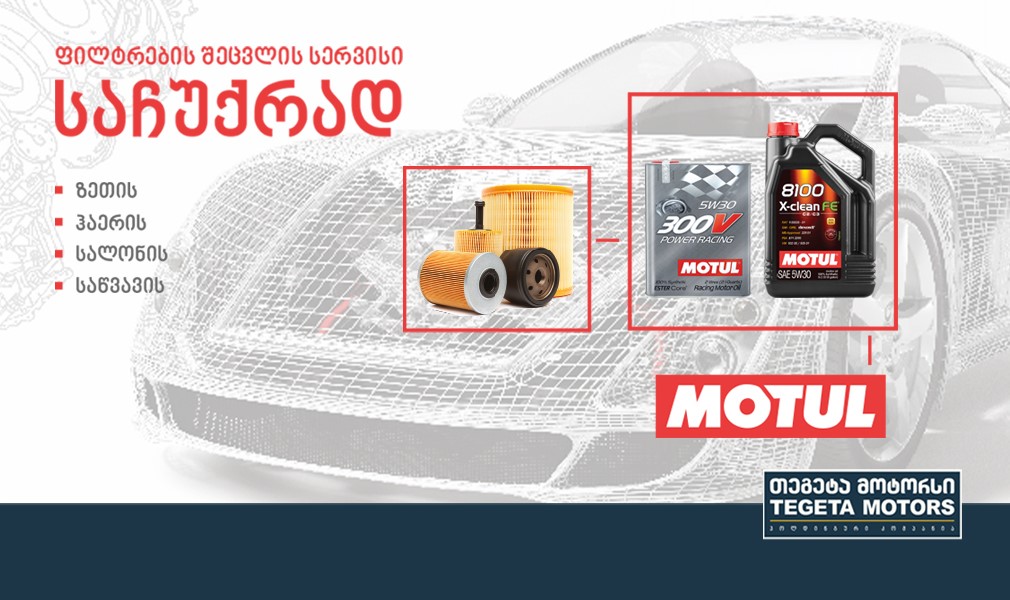 Finished